Gay dating: Men seeking men in the US
Last Update : May 27, 2019 by Thaïs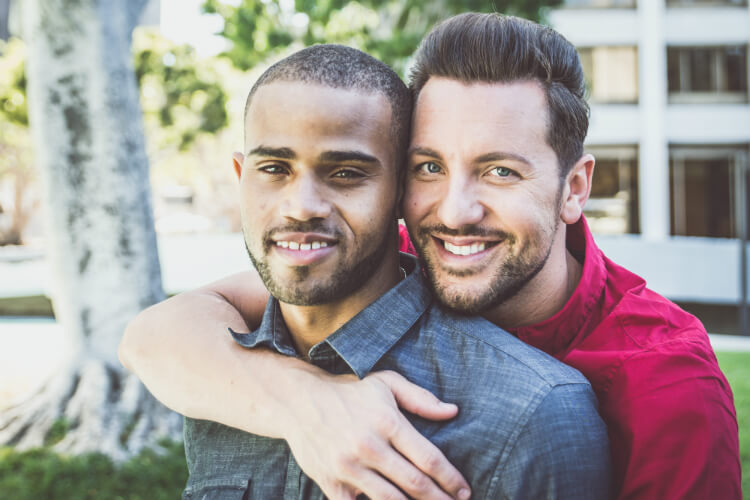 The gay dating scene in the US is quite vibrant and active. Men seeking men for a serious relationship, a casual encounter or just friendship.
The possibilities are endless when you use gay dating sites to meet same-sex people in your area and want to start a new love adventure.
Is online gay dating a good alternative to find long-lasting love?
In this new chapter of our Dating Guide: The Best Niche Dating Sites in the US, we explore the potential of gay dating sites, apps and chats.
The transformation of the gay dating scene over the years
Gay men have changed the way the date in the past decade.
Years ago, if you wanted to meet gay singles near you and get a date with another attractive man, you had to go to one of the few gay clubs and bars in town and pray you don't find the same people over and over again.
Fortunately, currently there are more options to choose from.
Here are 5 places where you can meet other interesting gay singles from all over the US:
Small local gay bars and popular gay clubs: Some people think flirting face-to-face in a gay bar is outdated, but there's something charming about meeting people in these venues. You can dance, party, have some drinks with your friends and, if lucky, meet someone special! The ambience is always friendly and fun, which makes easy the process of approaching someone you like and getting a date.
Gay pride: What a better place than to find a potential partner than during the most colorful parade of the biggest gay event of the year? Gay pride isn't just about celebrating gay rights, social acceptance and sexual diversity, making a statment against discrimination of the LGBTQ community and giving visibility to lesbian, gay, transgender, queer and bisexual people. It's also a good opportunity to make new friends within the community, meet other gay singles and eventually find love.
Gay dating apps, sites and chats: If you want to connect with tons of gay men from all over the US while chilling out on your couch, the best is to join for free one of the many gay dating sites and gay chats that are available at your disposal on the Internet. If you want to search for a potential partner while on the move, then make sure you try a gay dating app.
LGBTQ volunteer centers: Volunteering for a cause you care is really rewarding. There are many events and fundraisers working on a local scale aimed to help people from the LGBTQ community in a situation of vulnerability. There are plenty of organizations where you can work for gay civil & social rights and HIV/Aids-related causes. The main goal is to give to the gay community, but many gay singles have met their significant other at one of these organizations. Two fantastic excuses to become a volunteer in a LGBTQ center.
Your favourite social networks: The initial goal of platforms like Facebook or Instagram was to connect with people and show bits of your life to people you already know or who follow you because you share some interests. After years, these social networks have evolved and now they are also used for dating purposes. In fact, Facebook has rolled out a new feature in some countries called "Facebook Dating" where you can introduce yourself to other singles -gay, bisexual and straight- and get a date! The gay community in Instagram is also huge, so you can meet scores of gay singles instantly. All you have to do is to use a hashtag that is related to the LGBTQ community such as #gay #instagay #gayboy #gaypride #gaysingles or #gay + your city.
Online gay dating: Connecting with local gay singles in a few clicks!
Gay dating is on the rise!
Nowadays, gay men in the US are free to show their feelings in public and not be sent to prison or worse, executed as it occurs in other places.
There still are many rights gay men have to fight for, but having the freedom to search for a same-sex partner is not one of them anymore.
Gay dating sites, gay apps and gay chats have increased in popularity in the past 10 years.
If you go on the Internet, you can actually find a lot of dating sites dedicated to gay men who want to find from find long-term love to friendship and companionship.
It all depends on the type of relationship you are looking for.
What's for sure is that the fun starts once you join one of these gay dating sites.
You simply need to create a profile, upload some photos and meet other gay men in your area and get a date in just a few clicks!
Where to find the best gay dating sites?
We have tried the most popular gay dating sites in the US and selected the best ones for our ranking.
In our comparison site you can easily find key features of every gay dating sites we've analysed.
Read our reviews to find other relevant information about the Top Gay Dating Sites in the US as well as pros & cons.
We want you to give you the tools, but you are the one deciding what gay dating app, site or chat is best for you after looking at our choice of the very best!
If you love receiving daily partner recommendations based upon your personal preferences and romantic profile and also love to search other similar gay men by using hashtags that are related to your interests, then Gay Match.com is a good option.
If you are looking for a gay dating service that works more like a social network, then you'll love Zoosk Behavioural Matchmaking technology.
The site connects you with other gay men from across the US considering the way you behave while on the platform.
If you show interest in specific type of men during the first days using the dating site, then you will see profiles of guys who are similar to you in the results.
Do you love gay chat rooms? There's a platform that mixes the dynamics of the old-school gay chats with the lastest dating technology.
If you want to meet a lot of gay singles at once by participating in a group chat or by sending a flirty pre-defined ice-breaking message, then you should have a a try at GaysTryst.
Online gay dating offers plenty of opportunities for guys who want to meet and mingle with other single men instantly, regardless their location and the type of relationship they want to inititate.
Are you a man seeking another man? If the answer is yes, then online gay dating could be you best ally!