Senior dating: The adventure of falling in love after 50
Last Update : May 20, 2019 by Thaïs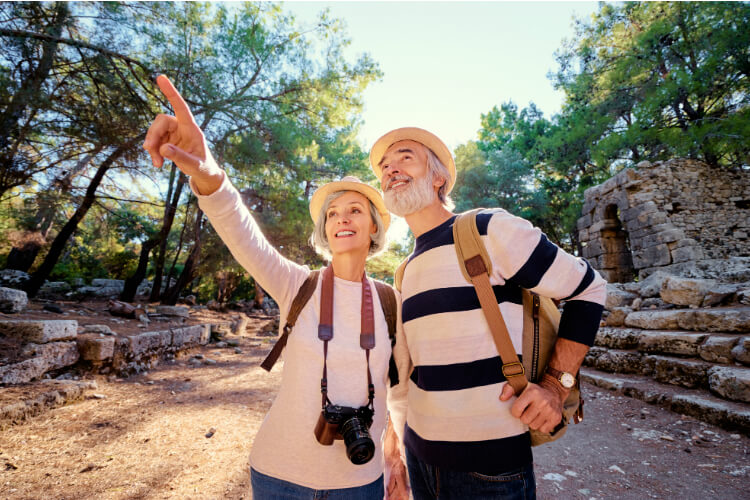 There is a popular belief that when you reach maturity, all you have to do is to think about your most important memories and enjoy the things you have earned during your lifetime.
Contrary to these assumptions, life can bring you a lot of new adventures after 50s.
There's much more than sitting in a rocking chair recalling how your life has been.
Love knows no age, and that is certainly true.
Senior dating is now more alive and well than ever!
In the second chapter of our Dating Guide: The Best Niche Dating Sites in the US, we expose all the secrets, the advantages and disadvantages of senior dating.
The joys of senior dating: Falling in love after 50s!
Being part of the senior singles community can be one of the most enriching life-time adventures. Why is it so?
Experience, experience, experience! Mature singles have plenty of experience under their belts and know that there is no time to wait in the game of love.
Most important, senior singles can handle love. They know the best strategies to seduce someone they are attracted to and don't fear rejection.
In fact, quite the opposite. Rejection for them means no time wasted on someone who doesn't deserve being by their side.
They are clever enough to select the best opportunities. Most of the times, know what train to take!
Additionally, the vast majority of senior women and men are in a position where they are financially stable and independent.
They don't have to take care of kids, as if they had in the past, they probably are adults now and have a life on their own.
Is everything shiny and positive about senior dating? Not really.
Let's be clear. As it happens with any other age group of potential daters, there are some pitfalls here as well.
Most senior singles are ready to give love a second chance, but not everyone is fond of using new technologies for that purpose.
Online senior dating! That sounds really intimidating for many singles over 50.
However, we want you to demystify the idea that online dating is only for millennial singles.
In fact, this is far from reality. As it occurs with love, online dating is open to singles belonging to any generation.
We want you to give you the reasons why senior dating sites can really be very useful in your search for the perfect partner.
The idea is not to convince you to use one particular dating website, but inspire you to think about all the possibilities senior dating can offer you!
Here are 5 simple reasons why you should consider having a try on a senior dating site:
You can instantly connect with other singles of your same age who look for love and companionship,
You don't need to waste time on swipes and likes as most senior dating sites use matchmaking systems that analyse your romantic profile through a personality test and connect you with singles who share your same interests and needs. This means more opportunities to find real love,
It's a very discreet and fun way to search for a potential partner. You are in control of your dating life and no one, family or friends, can interfere,
You can chat with and meet scores of singles over 50s from your area from the comfort of your sofa or while on the go,
The experience can be unique and very enriching: You can land some dates, and even if you don't meet the right person at the first attempt, the possibilities are almost endless because more and more people every day join this kind of websites. You can also make some new friends during your online senior dating adventure!
Where to find the best senior dating sites?
Senior dating is becoming as popular as any other dating alternative.
It's not rocket science. You can use a lot of dating sites, but the ones that can really offer you an effective dating experience are the ones that go the extra mile and include an extra.
Let's say something like a more personalised experience, a dating adventure just tailored for you!
Of course, in most cases that means getting a Premium subscription.
And what group has high purchasing power? That's right! Mostly senior singles!
Don't think about this as something negative. Just quite the opposite. This means that there are plenty of options to choose from in senior dating market.
Now, the idea is to select the right senior dating site for you! One that is good creating meaningful connections in a secure and entertaining way and at an affordable price.
Beware that an expensive service not necessarily means a better service. You have to think about many options before deciding on one senior dating site or another.
We've got you covered! We have tried and selected the Best Senior Dating Sites in the US!
You can read our full reviews to see what every dating service offers, the good and bad.
You can also use our comparison table to quickly see what features are the best and compare between dating sites.
We give you the tools, but the choice is yours!
If you are looking for a senior dating site based on the way you behave while using it, then Zoosk is a great choice!
If you love being in control of your online dating experience and prefer to look for potential matches online on your own, then we recommend you to try Match.com unique search system where you can look for people who meet your criteria by using specific keywords and hashtags.
If you love dating sites that require you to solve a personality test or a questionnaire based on affinity, so they can match you with someone who is highly compatible, then eHarmony is worth a try.
Any of these three senior dating sites are good in connecting like-minded singles over 50 who look for a soul mate, but joining for free one or the other depends on your romantic expectations and the dating experience you want to live.
What's for sure is that senior dating sites can really be of a great help in your journey of searching for the perfect match!
A good excuse to consider them as one of your dating allies.
All in all, it seems that finding love after 50 isn't as hard as people think, isn't?