Vote now: The Most Romantic City in the US!
Last Update : February 11, 2019 by Thaïs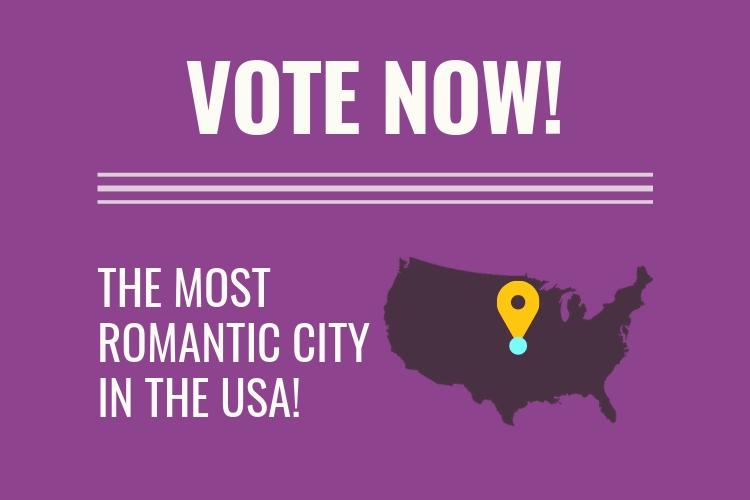 Romance, romance everywhere! The US is one of the most romantic countries in the world.
From crowded and cosmopolitan cities like New York, Boston, Washington or LA to more tropical landscapes like in Orlando or Miami and vibrant and multicultural cities like the birthplace of jazz, New Orleans, it's undeniable that in the US there's a special place for anyone and everyone.
The biggest cities in the USA offer an irresistible range of possibilities when it comes to love and dating.
A day doesn't go by that you can find an event or an activity that helps people connect and get dates.
There's always a fun option for those who are single and want to meet new people and land some dates as well as for those who already are in a relationship and simply want to celebrate love surprising their partners with an original activity.
Please check our Guide to Dating in the USA to Meet Singles in your City. You can also get inspired with our date ideas for couples.
Which cities in the US are best for a romantic date?
Places like New York or LA hosts events for those singles who want to meet and mingle with style.
You can find within minutes plans to spark romance with your loved one.
There're people who look for adventure. If you are one of those, then there's nothing like having a date out in the mountains. A trip to the Mount Washington State Park can become an unforgettable experience.
A lot of singles find love while celebrating some seasonal festivities and holiday events in the US. In festivals like Mardi Gras in New Orleans, you can meet a lot of people while enjoying the music and the parades.
If you play your cards well, you can end up meeting your next partner at one of these festivities.
What is the most romantic city in the US? Vote now!
The choice is yours! You decide which one is the best place in the US to enjoy a romantic date!
Do you think New York should be named the capital of love? Are events for singles in San Francisco more enjoyable than in Washington? Do you think that falling in love is easier in Houston than in Los Angeles?
Cast your vote and decide which US city should be crowned as the most romantic place in the country!