Are you addicted to dating apps? 5 shocking signs you need a timeout!
Last Update : March 6, 2019 by Thaïs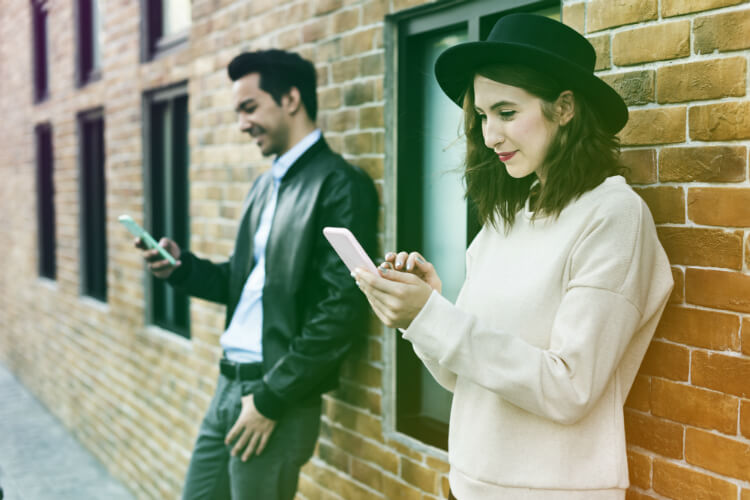 Finding Mr. Right while on the move. It really sounds like a dream come true!
Nowadays, you don't need a miracle to meet scores of interesting men near you within minutes. Online dating has come to the rescue!
Dating apps have shaped the way singles meet, get dates and find a potential partner.
The game of love: The risks of getting addicted to dating apps like Tinder
Currently, top dating apps like Tinder or Zoosk are the choice of reference for many Americans who seek from casual to long-term relationships online.
Matchmaking systems like Tinder's swiping or Zoosk's behavioural feature help lonely hearts to connect instantly with other local singletons.
You can land a date in just a few clicks from your mobile phone.
The downside is that some people consume certain dating apps, not as a service to find love, but as an entertaining game where you need to interact with other singles to seek validation.
The more matches they get on Tinder, for example, the more their confidence boosts.
Addicted to dating apps? Here are some alarming stats!
The figures are grim. Every day more and more singles become addicted to dating apps.
Mobile matchmaking services have become a recurrent pastime. Below you can find some alarming data about being addicted to dating apps:
It's obvious that the number of singles using dating apps obsessively is increasing.
Sadly, their goal isn't to find long-term love, but to use them to get distracted and to boost their egos.
Are you addicted to dating apps? These 5 warning signs will tell you if you really need to take a break!
The most popular dating apps deliver what they really promise: the opportunity to safely meet singles from all over the US on the go.
One minute, you are creating a profile, and 10 minutes later, you are in touch with a few interesting guys who live nearby.
Undoubtedly, online dating is a fun and very entertaining way to meet people.
It seems that you don't really need to try too hard to land a first date, but, as occur with social networks like Facebook or Instagram, some singles can't help but constantly check what's going on on their favourite dating app.
Tinder is one of most used dating apps in the world and probably is also one of the most addictive ones.
You can literally spend hours checking profiles and swiping right or left to show your interest or reject someone.
Here are 5 blatant signs telling you that you should consider having a break:
1. You've got plenty of dating apps installed on your mobile phone
There are so many dating apps available on the market that it's almost impossible to remember all of them. Variety is the spice of life. Singles are really lucky to have so much choices when it comes to online dating. Problem is that many download dating apps before checking if they really suit their needs. Some dating apps like Tinder are for casual dating, while services like Zoosk are aimed at those who look for long-term relationships. If you are one of those singles who use more than one dating app at the same time, you should consider taking a break. Time is a valuable thing and if your goal is to find a potential partner, the best is to use a comparison site, check which dating app is best for you and focus on that single service.
2. The first thing you check in the morning and the last in the evening is a dating app
It's obvious that you need to exchange a few messages before meeting your match in person, but this doesn't mean that you need to be glued to your mobile phone. Your dating life is important, but so it is enjoying other aspects of your existence. Set some limitations. Log in to your favourite dating app once a day when you have 10 minutes, before you going to be or on the way to work, but don't over use it.
3. You spend hours swiping
We all know how fun and entertaining is Tinder's swiping or Zoosk Carousel, but swiping profiles one after the other as if there were no tomorrow will not assure you a date. Choose quality over quantity. You may think that the more people you show your interest in, the more chances you will have to get a date. Wrong! If all users do that, how can you differentiate those who are genuinely interested in a relationship from those who simply want to chat online and not dating you or even worse, ignore you after swiping right, just for the fun of doing it? Better to slow down or take a break!
4. You send a lot of messages, but never go out on dates
There is a new dating trend named breadcrumbing that refers to the idea of spending hours talking and flirting with someone on a dating site as if you were interested in a relationship, but the conversation leads to nowhere. A date in person never takes place. If you are one of those who floods other online daters with messages, then you should give yourself some time to think about what the goal of your dating experience should be. Love and chemistry only happen when two people are close one another, so the best is to use dating apps to find like-minded singles in your area and, as soon as the opportunity arises, invite out your match to a face-to-face encounter.
5. You always come back to your favourite dating apps after a short break
Spending hours on dating sites swiping left and right isn't precisely fulfilling. Some people experience a sense of emptiness after overusing a dating app like Tinder where you can see a lot of singles near you, but a date never materialises. Dating apps like Zoosk are great to find a potential match, but it's very important to use these services in a reasonable way. If you are one of those singles who spends a lot of time online dating, then, all of a sudden, disappear from the platform and some time later come back, then it's a sign that you are not taking the most of your favourite dating sites. Solution? Better to go online once a day for a few minutes, focus on contacting users who really have serious intentions, and delete the dating app once you find someone special. The idea is to maximise your online dating experience!