Dating as Taylor Swift
Last Update : April 26, 2019 by Thaïs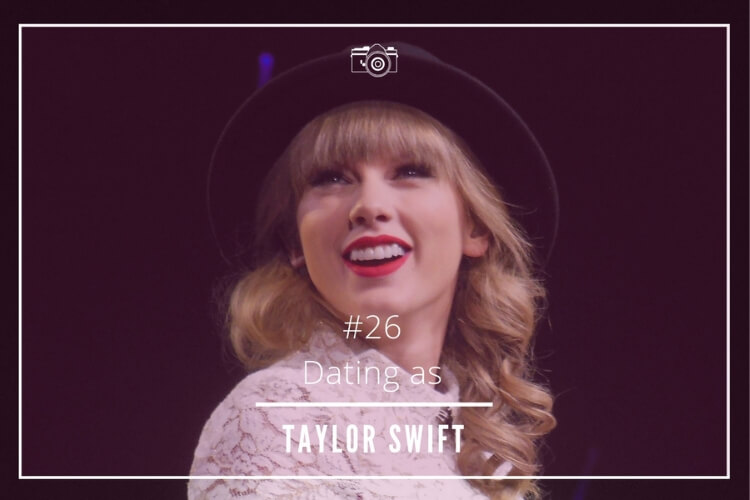 Stardom can be a tricky thing. Celebrities, like most average people, have their ups and downs.
The worst part of being famous is that you constantly are subject to criticism and your dirty laundry is always aired.
One of the famous women who is always in the spotlight thanks to her music, but also to her love life, is Taylor Swift.
Her romances, the list of guys she has been dating over the years, her breakups… The singer's love stories have filled countless pages of gossip magazines over the globe.
Her romantic experiences have also become invaluable sources of inspiration for when she was writing music for each of her albums.
Taylor Swift has made her great return with a new song called Me! and in collaboration with Panic! At The Disco vocalist, Brendon Urie.
We have taken this unique opportunity to have a look at her stacked dating history. Want to know what type of dater is Taylor Swift? Keep reading!
The idealist and hopeless romantic Taylor Swift
Being in a passionate relationship is like riding a roller coaster.
When there is communication, and the relationship is good, it seems you are living in a fairy tale.
However, when things turn to get unpleasant… you are left with emotional marks! Then, it is up to you how you deal with them.
Talking about your bad experiences or expressing your hard feelings can be the best solution to recover from a breakup. This has been Swift's dating style.
When her fling with the British singer (ex-One Direction), and heartthrob, Harry Styles, was over, she dedicated an entire album ("1989") to make some lyric references about the miseries of their relationship, and make a clear statement that she is "never ever ever getting back together" with him.
Why give gossip magazines the scoop about your romantic failures, when you can do it yourself, and with style? [no pun intended].
Dating a passionate, yet unpredictable woman
We have seen it many times. Taylor Swift is a very passionate, strong and independent woman, but after analysing her romantic profile and dating history, we can conclude that she also is unpredictable.
She is the kind of dater that may be falling for you at a first sight, and fight hard to make your relationship grow stronger.
It seems that Swift expects adventure as well. Looking at her dating history, she is the kind of person who loses interest and moves on very fast if the relationship doesn't meet her expectations.
Swift spent one year dating the DJ Calvin Harris, and days after they parted ways, she started a new romance that lasted just three months with the Hollywood star, Tom Hiddleston!
Nevertheless, this is what finding your significant other is all about: you need to kiss some frogs and date several people, until you find the right partner for you!
Rumours say that the artist is secretly dating British actor Joe Alwyn, but the couple haven't made it official yet!
Will Taylor Swift find her Prince Charming any time soon? Is Joe Alwyn the definitive one?
Check below Taylor Swift's new song Me! featuring Brendon Urie.
*Photo by Jana Zills via WikipediaCommons with CC 2.0 Generic license.