5 tips to survive your first Christmas as a couple
Last Update : December 12, 2018 by Thaïs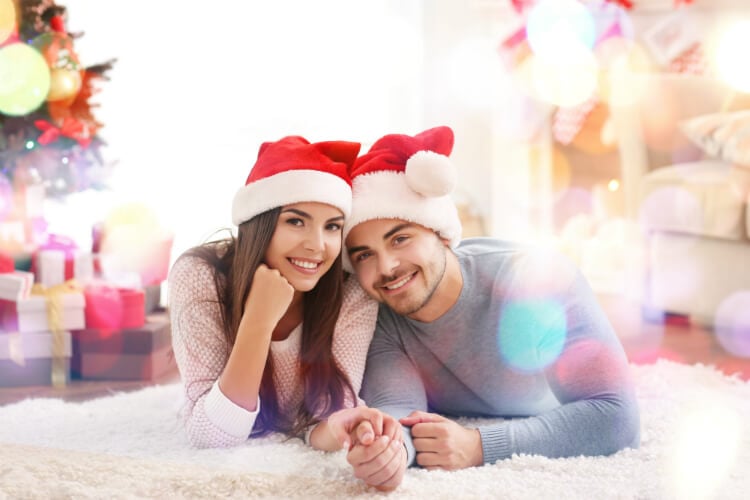 Your first date, your first kiss, your first time in bed together…. Your first Christmas as a couple and with the in-laws!
Nothing compares to the wonderful journey of getting to know your new partner: his/her interests, dreams and silly obsessions that you adore about him/her…
Meeting the parents of your boyfriend or girlfriend for the first time can be a tricky adventure, especially if your first encounter occurs during Christmas time.
This challenge can be decisive to define the future of your relationship.
Are you going spend this year's Christmas celebrations with your in-laws and don't know if you are going to survive?
These 5 effective tips will help you survive your first Christmas as a couple.
The Ultimate Guide to survive your first Christmas with your boyfriend or girlfriend
1. Split your time evenly
Meeting your in-laws for the first time and doing so during Christmas time, can be a cause of stress. The fair solution is to divide your time evenly, and spend half of the time with your family and half of the time with your new partner's relatives.
The best is to divide celebrations evenly with both families. You can spend Christmas Eve with your in-laws and use Christmas day to present your new boyfriend or girlfriend to your parents and relatives. It's the perfect excuse to meet your in-laws and test if you and your partner are good taking decisions together.
2. Surprise your in-laws with a Christmas gift
Sucking up to your in-laws isn't a great thing to do if what you want is to make them thing that you are someone with strong character, but a small detail mark the difference. If you give your in-laws an original Christmas gift, they will think that you are a very attentive and kind person.
In time, you will get to know each other well and the relationship may change, but causing a good first impression is core during your first Christmas with the in-laws.
3. Avoid conflictive topics during your Christmas conversations
A Christmas dinner with the in-laws (and with your own family as well!) can start as the biggest celebration of the year and easily end up in disaster. More people, more opinions, but talking about politics, extreme religious ideals or experiences with an ex are a no-no!
4. Have an exit strategy under the belt
Christmas is a time for magic and illusion, especially for the little ones, but it can be a special occasion for new couples as well! Anything can happen during Christmas Eve or Christmas Day with the in-laws.
So, better be ready for unexpected events! You dream about having a wonderful first Christmas as a couple, but a small detail or comment out of place can cause an irreparable damage to your relationship.
The best is to plan an exit strategy just in case things don't go as expected during your first Christmas as a couple.
In a first date you can try the fake emergency call when you feel uncomfortable with your date. After all, you haven't had time to get to know each other (unless you were friends before going out on a date!).
This trick isn't very useful for a first Christmas dinner with your in-laws. However, your partner and you can set in advance an exit plan strategy to be use either with your his/her family or yours whenever any of you feel more uncomfortable than expected.
You can use a sign only recognisable by you two that means that you've spent enough time with your families and it's time to say goodbye!
An escape plan can be very useful when someone breaks the rule of no talking about politics.
5. Plan a romantic adventure for two
Perhaps you are lucky and your first Christmas dinner with your in-laws goes smoothly. Regardless if it goes right or wrong that special day, what matters is to book some time during your Christmas holidays to spend with your new partner, just the two of you.
A great romantic adventure would be to plan a romantic retreat with your significant other to the countryside for a couple of days, travelling to another big US city and enjoy the wonderful Christmas markets and the local cuisine.
The goal is to make your first Christmas holidays together unforgettable and start 2019 with love, passion, magic and energy.
Have a look at our US Cities Guide to find the best spots and Christmas plans for a romantic date.
Alternatively, you can check out our dating blog to find original ideas for a romantic and adventurous date, a date on a rural area, low-cost romantic getaways ideas and creative activities for two like pheromones' meetups, or date plans where you are asked to seduce through your senses.